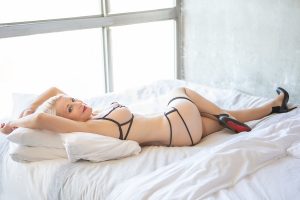 I am deviant, perverse, and experienced. How may I please you?
Let's dance, let's play, let's have fun.
Let's pretend. What is your favorite day dream? your favorite fantasy?
Let's escape to an erotic world of our creation others only fantasize about.
Yes, I have limits, and within them there is a world of sensuality, a provocative buffet of perverse and deviant behaviors to explore.
Dress me to explore your fetish of leather, latex, stockings, boots, lingerie…and instruct me to walk for you, move for you in a way that makes you smile.
I want to follow your lead.
Great times together happen in the mind.
The role play fulfillment of doing all those things you have previously only fantasied about with your secretary? your boss? a special beau? in your grasp to feel, to revel in at last. Does that excite you?
Do you crave beholding a restrained, disheveled, sexy woman struggling in her bonds at your feet before you?
What is that wild crazy thought held in your mind?