It is an overcast day in Chicago and *really*, I need to get ready for an appointment this morning.
July just flew by me.
I was home in Los Angeles. My morning in Los Angeles are taken with training these awesome new ponygirls and ponyboy that are members of the LA Pony and Critter Club. We have a Jamboree coming up in August, and they will be participating in it. Routines are being learned, different disciplines of Pony play are being explored. It is great fun and terrific exercise in a beautiful park in LA. How cool beans is that?
I had a fabulous week in Dallas. Dallas rocks. I discovered the Fish Market on Main Street, the Lobster Bisque is to die for.
I attended Thunder in Mountains. Memorable. Always special to meet up with the people I go to see there. Nothing like I expected and most definitely surpassed my expectations. Thunder is always a great event to participate in.
I visited Minneapolis for the first time. I will have to return. I had an awesome welcome of business and many letters asking for my return. I shall, Minneapolis, thank YOU.
I returned to the Drake Hotel in Toronto, Canada. This is a remarkable, unique hotel in the Art-Theater district. And here is a capture of their cement Teddy Bear collection: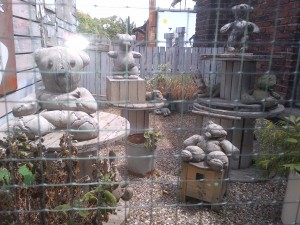 I must prepare for work. I am having a fabulous time in Chicago. Thank you, Chicago.