There is a ponygirl I train that lives in Indianapolis. Her Pony name is Ginger. I started training her at the Great Lakes Leather Alliance in 2011. When I travel to this fine city, it is to do work and mostly to train my ponygirl.
Ginger doesn't get to practice on reins much. She really needs a local play partner. I'd be sad to loose her, but I want her to be happy and well trained. She was so nervous the first practice session and much better the next practice. I took out my dressage practice book and we went through the routines. I'm loving that book. We created it for the LA Pony and Critter Jamboree to be held August 25th, 2012. It is a fine book to exercise one's pony with any day.
I was trying to explain and get across the idea of a relaxed walk gait that had momentum, smoothness, energy and yet, was a walk. On our way back to my hotel, we saw this wonderful Cinderella cart being pulled by a Clydesdale. I insisted on us taking a ride.
It was so fun. The Clydesdale was a terrific horse named Clyde. He is a rescue. He has a lovely relaxed walk, yet it has momentum, the cart is pulled smoothly. Ginger understood what I was trying to explain. Huzzah!
Bravo to Clyde's owners and the company he works for also. Not only do they rescue horses, Clyde is well cared for now. When it is hot in Indianapolis, he doesn't go to work until 7 PM. If it is cold, he doesn't work. When Clyde works, he is very focused, an excellent cart horse that knows his route.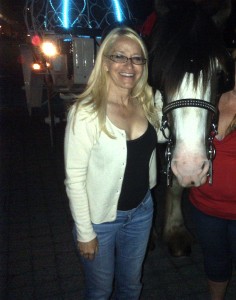 Another excellent weekend.
I love my life.