I stayed at a new hotel in Dallas this time, the Fairmont.
This hotel was on the edge of the Art district, the Historical part of Dallas and the downtown business center. It was only 4 blocks to the same Chase Bank I went to before, but I approached it from the other side. It was interesting to walk around these blocks of downtown. It also made me realize how little I get out when I am working unless someone takes me out, how little time I have to walk and explore.
While walking to the bank, I noticed trolley signs, wires and tracks. Since I grew up in San Francisco, I have a fondness for trolleys. I took the trolley for several blocks and stopped at a Starbuck's, got coffee and took a different trolley back. It was fun. I have no idea where I went, some other district in the northeast part of Dallas with lots of bars and restaurants as far as I could see.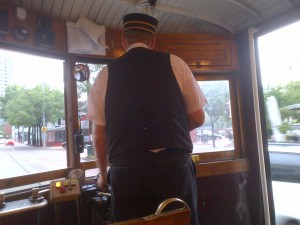 I had an excellent time in Dallas. It is a city where I have a sponsor. A sponsor is a gentleman that always sees me when I visit a certain city and books at least four hours of my time which covers my basic costs. These sponsors are why I visit some cities more than others. What I love about seeing a gentleman over and over for extended time is that our relationship grows, our foundation of trust expands and we have sufficient time together to explore the D/s dynamic and areas of BDSM play that make me cringe, but I am willing to try to do my best. There aren't a lot of types of play that make me cringe. Some of this play is being in rope or bondage for extended time or bound completely helpless, or electrical play or sensory deprivation. Extended time together also means we can explore wax play more fully or sploshing. These messy types of play require extensive setup and cleanup.
I love my life. Thank you Dallas.