I had a rockin' week.
Worked.
I love my job. I love the opportunity to explore bdsm and all the different ways one can do that. Being eye candy to a Gambler, touching him, nibbling on him, learning to play a new game of cards and follow directions. Sweet. Being a toy for a couple that have been together a solid amount of years and it's her birthday. She labeled themselves "dedicated amateurs". I would label them a treat and fun.
Went to Harry World at universal with friends Tuesday.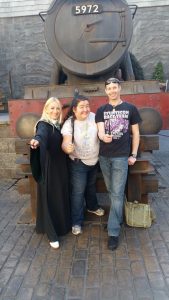 Laundry
I frilling love the local Soap & Suds. Clean, brightly painted and all my laundy is done in a couple hours.
Gardening
I have Spring Mix lettuces, butter lettuce and tomatoes. We have had heat weeks in Los Angeles. I think my strawberries are goingto make a go for it. Not sure how that will work out for them. The roma tomatoe plant is hearty but it isn't bearing fruit.
Hiking
Kelly and I walk everyday. Some days are more vigorous than others.
Health
I have had an issue with my gluteus medus on the left side this week. I woke up stiff, and in pain. I walked it off and by Noon the issue would leave, then come back in the morning. Argh. A friend massaged the knots there. How does a person get knots there? Anyways, it i sSunday and everything seems to be working well again. YAY.
Reading
I am on the fourth book of the Dark Tower series. I want Roland to succeed. Please , Roland hang in there. We all have our journeys, our dark times, our stellar times. This is your moment with new recruits. You've got this.
Christmas for Grandchildren
I gifted new leather cowboy boots they can open and wear when they arrive AND books they have to wait until Christmas to open. The little library is for all of them, Keith (7), Claire (9) and Grant (11).
Blueberries for Sal by McCloskey, Robert
Make Way for Ducklings by McCloskey, Robert
The Story of Ferdinand by Leaf, Munro
Magic Tree House Boxed Set, Books 1-4: Dinosaurs Before Dark, The Knight at Dawn, Mummies in the Morning, and Pirates Past Noon by Mary Pope Osborne
The Black Stallion Adventures! (Box Set) by Farley, Walter
The Wrinkle in Time Quintet Boxed Set (A Wrinkle in Time, A Wind in the Door, A Swiftly Tilting Planet, Many Waters, An Acceptable Time) by L'Engle, Madeleine
Roald Dahl Collection – 15 Paperback Book Boxed Set
I am really blessed. I love my life!