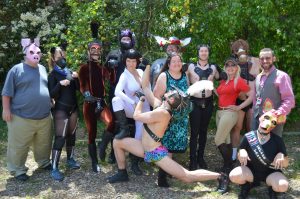 Derby Day, held on the same day as the Kentucky Derby each year (the first saturday of May) is a favorite of the Los Angeles Pony and Critter Club.
Races for the Day:
1. Derby Race
2. Steeplechase Race
3. Greyhound Race
4. Pacer Race
5. Puppy Hurdle Race
6. Trotter Race
It was a sunny and hot day. Activities were capped off with a watergun fight after props had been loaded into the van. BEYOND Wonderful!
$175 was raised for the No-Kill LA Adoption Center.