I found Ollie at the No Kill Los Angeles Adoption Center. He is a Lab mix.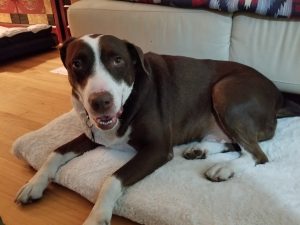 I find his energy to be 80% Chocolate Labrador Retriever. By his coloring, I would say Fox Hound is the next biggest mix in. Ollie is a happy, jolly, friendly guy, a big teddy bear. He has the most wonderful eyes. Squirrels beware.
Rescue dogs are not always perfect, some need training. Ollie is a smart boy and we are progressing nicely. He needs to learn not to lunge at dogs on the street and start baying at them. It is a very bad representation of wanting to be friends, wanting to play and demonstrates not having any social skills. At the Dog Park, he does excellent. I am certain with time we can correct this. He pulls some times on the leash, so I am using the Gentle Leader with his harness. It is more like reining, and I have more control and we do better on our walks around the neighborhood.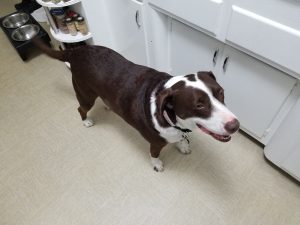 Ollie and I hike in the morning, which I am loving.
We met some friends in the park and I discovered Ollie has frisbee skills. I have never owned a dog that can run, jump and catch a frisbee. Huzzah!
And Ollie has lost weight, he is lots more tone.